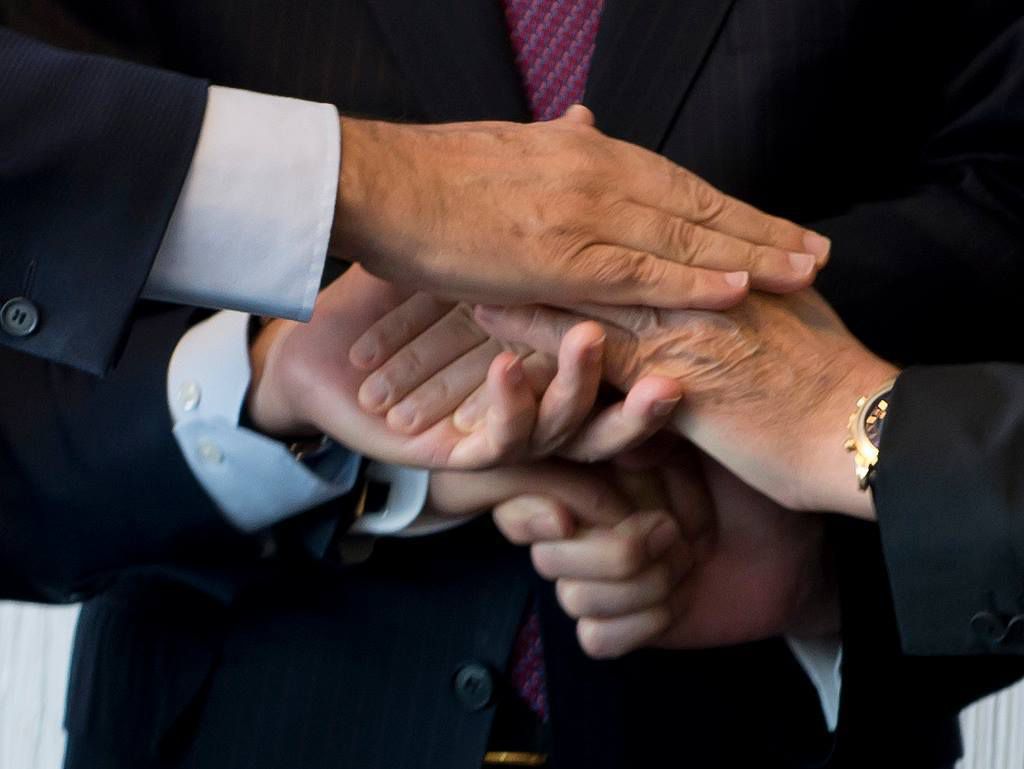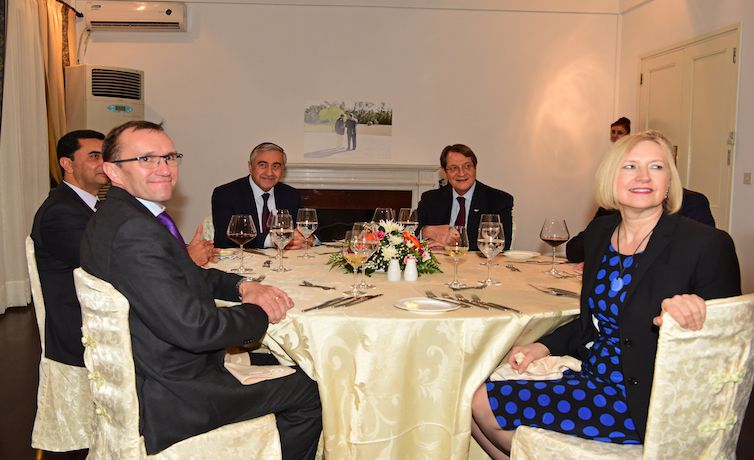 UN Secretary-General Ban Ki-moon with the Turkish Cypriot leader, Mustafa Akinci and the Greek Cypriot leader Nicos Anastasiades during the Cyprus talks. UN Photo / Jean-Marc Ferré
Anastasiades and Akinci will meet in Geneva to continue negotiations about Cyprus' reunification on 9 January, next week.
On the 11th of January, they will present their respective maps on the issue of territory. From the 12th of January, a Conference on Cyprus will be convened and will take place in the Palais des Nations with the added participation of the so-called guarantor powers (Greece, Turkey and United Kingdom).
The EU has reiterated its support to the ongoing process for the reunification of Cyprus and stated that whilst the country is and will remain a member of the Union after the Settlement, stands ready to participate at the Geneva Conference. Anastasiades and Akinci recognise that any settlement must respect EU values and principles, ensuring that the fundamental rights and freedoms of all Cypriots are protected.
Under the direct management of President Juncker and Vice-President Dombrovskis, the Structural Reform Support Service (SRSS) coordinates the Commission's efforts to support the process and is also responsible for the implementation of the EU Aid Programme for the Turkish Cypriot community as well as monitoring the application of the Green Line Regulation.
Cyprus joined the EU on 1 May 2004 as a de facto divided island. Current negotiations (under the auspices of the UN) aim to reach a comprehensive settlement leading to the re-unification of the island and establish a bi-zonal, bi-communal federation in which the Greek and Turkish communities would enjoy political equality. Such a settlement would end a conflict that is now more than 40 years old.

The Green Line
The whole of Cyprus is EU territory. However, in the Northern part of the island, where the Government of Cyprus does not exercise effective control, EU legislation is suspended in line with protocol 10 of the 2003 accession treaty.
Since 1974 the "Green Line" separates the two parts of the island. The EU's Green Line Regulation sets out the terms under which persons and goods can cross this line, which is not an external border of the EU.
The main practical effect is that the Northern areas are outside the EU's customs and fiscal territory – but this does not affect the personal rights of Turkish Cypriots as EU citizens. They are citizens of an EU country - the Republic of Cyprus - even if they live in a part of Cyprus not under government control.
The situation will change once a Cyprus settlement enters into force and EU rules apply over the whole of the island. According to the Commission, whereas many people move across the Green line every day, trade across the line is limited, approximately EUR4 million per year.
Read more: Cyprus talks