The Official Bob Geldof Website
Bob Geldof adds voice Irish4Europe
Irish4Europe is thrilled to have the support of Bob Geldof for its campaign: "Bob's encouraging every Irish person in the UK to register to vote - but there are only 4 days left to register, so spread the word and share our video tagging all those you know who can vote to make sure they're registered by 7 June," they said.
http://irishforeurope.org/phoneafriend/
Charles Flanagan T.D., the minister for Foreign Affairs and Trade of Ireland, recently declared that it is in Ireland's fundamental interests that the UK remains a member of the European Union. There is, he thinks, absolutely no doubt about that. "British membership of the Union is hugely important for this country – for our economy, for the strength of the British-Irish relationship, for peace and stability in Northern Ireland and for our long-term strategic positioning within the EU," Flanagan asserted.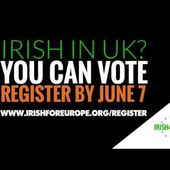 Irish people in the UK are eligible to vote in the EU referendum on June 23rd. Irish4Europe is encouraging people to contact their friends, relatives and colleagues to encourage them to register by
https://www.youtube.com/watch?v=fIcyHcsoEdc&feature=youtu.be